Public funding via Donors and Sponsors is required to maintain this memorial and provide scholarships in aviation for our youth.
Donations to this organization can be made via PayPal on this site or by check payable to Thunderbird Field II Veterans Memorial, Inc. and mailed to:
Thunderbird Field II Veterans Memorial, Inc.
14700 N Airport Dr. Ste 108
Scottsdale, AZ 85260
Please include your email address as your Charitable Contribution receipt will be sent to you via email. Your contact information will not be shared with any other person or entity.
Thunderbird Field II Veterans Memorial, Inc., (EIN 47-1588269) is a non-profit organization under section 501(C)3 of the Internal Revenue Code and contributions to the organization may be deductible under Section 170 of the Internal Revenue Code. Contact Steve Ziomek, Chairman and President, at 480.664.6604 with any questions.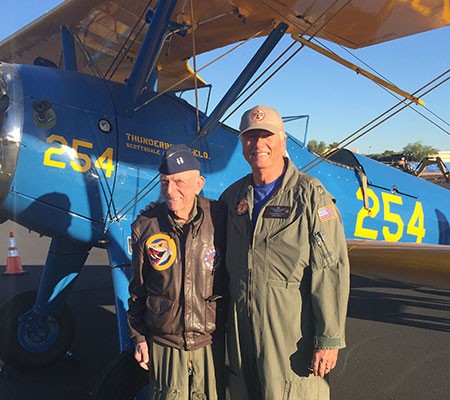 Thank You To The Original Donors & Sponsors Listed Below
Major Contributors
City of Scottsdale
Alerus Financial
Art Institute of Phoenix
Constant Concepts
Gemini Air Group
Go Rentals
Kierland Master Association
The Miller Group
Ross Aviation
Rudy R. Miller Family
Steve & Jeannine Ziomek Family
Contributors
American Flyers Inc.
AZ Conference of Seventh-Day Adventists
Buzzard Family Trust
Centerline Aviation
Donn & Rachel Frye Family
Joan Fudala
Global Mobility Solutions Inc.
Honeywell
John V. Berry Family
Ken & Randy Kendrick
Mike Dillon Family
Robert & Sharon Semple Family
Service Elements International
Signature Flight Support
Sunstate Aviation
The Hampton Group
Zenus (Zeke) (US Army WWII) Prust Family
Supporters
Alliance Bank of Arizona
American Society of Travel Agents
Bruce Weber & Sole Images
Dr. & Mrs. Taylor
Dr. Mike Pfleger
Keith Lorch
Lee Benson Trust
Major Winfield Scott DAR
Mayor Lane Family
National Association of Realtors
National Bank of Arizona
Pamela Mundy
Robert Robbins
RSM US LLP, Phoenix Office
Scott Weaver
Stephen McConnell
Telgian Holdings, Inc
Timothy Hornak
Supporters
Wells Fargo
Chris McMurry
Jeff Schneidman
Craig Coppola
Walmart
Continuing Sponsors and Contributors
Estate of Lt. Col. Frank A. Applegate, USMC, Ret. and Mrs. Nan Applegate
Kiwanis Club of Scottsdale McCormick
Telgian Holdings, Inc.
Rick Wielebski – Atlantic Aviation