Scottsdale, AZ (May 26, 2023) – Thunderbird Field II Veterans Memorial, Inc. ("Tbird2″) has added Major General Shanna Woyak of the United States Airforce to its Board of Directors. Tbird2 is a non-profit 501(c)(3) organization whose mission is to preserve the rich history and culture of aviation in Scottsdale, provide a tribute to our veterans, promote aviation, create unique educational opportunities to the public, provide aviation scholarships for Arizona college students, and support Dogs4Vets and other specific veteran assistance programs.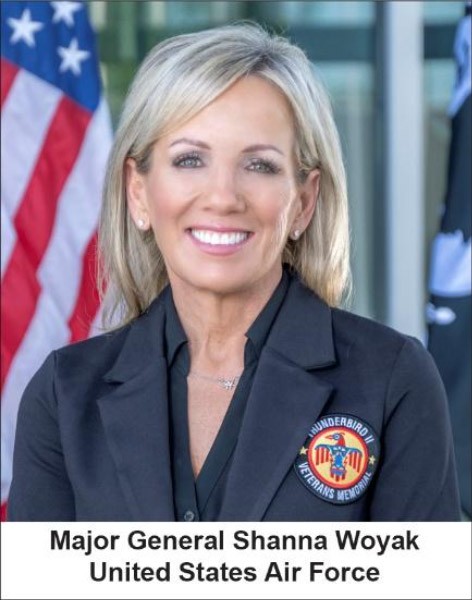 ABOUT SHANNA WOYAK
Shanna Woyak is a Senior Healthcare Executive having held leadership positions as a Chief Executive Officer, Chief Operating Officer, and more recently, as a Major General in the United States Air Force. She has led some of the largest transformations in military medicine history as the first Director, Small Market and Stand-Alone Military Medical Treatment Facility Organization (SSO), Defense Health Agency, San Antonio, Texas, overseeing the integration of >200 Army, Navy, and Air Force Medical Treatment Facilities spanning 32 states and Guantanamo Bay, Cuba. Major General Woyak was past Director of the National Capital Region, Washington, DC, leading the first transition of the authority, direction, and control of Army, Navy, and Air Force Healthcare delivery under the Defense Health Agency.
EDUCATION
Maj Gen Woyak is a Registered Nurse with a Master's Degree in Business Administration and Healthcare Management. She has received Executive Leadership Certificates from the University of North Carolina Kenan-Flagler Business School, Chapel Hill, North Carolina, Syracuse University, Syracuse, New York, and Harvard Kennedy School, Cambridge, Massachusetts.
NOTABLE MILITARY SERVICE & ASSIGNMENTS
Spanning a 37-year career, encompassing many unique assignments, Maj Gen Woyak deployed in 2002 as the Chief Nurse assigned to the 10th Expeditionary Medical Operations Squadron, Combined Task Force, Incirlik, Air Base, Turkey, in support of Operation Northern Watch and in 2007 as a Staff Nurse assigned to the 332nd Expeditionary Medical Group, Joint Force Theater Hospital in Balad, Iraq. Major Maj Gen Woyak is the recipient of the Defense Superior Service Medal, Legion of Merit, Meritorious Service Medal with two oak leaf clusters, the Air Force Achievement Medal, and more.
Stephen P. Ziomek, Chairman and President of Tbird2, stated, "It is truly an honor and privilege to have such a valuable asset in the form of Major General Woyak, join the Tbird2 Board of Directors. She has devoted her life serving the armed forces and veteran community. Her experiences will definitely help us as we continue to fulfill our mission of providing scholarships to our students and supporting the veteran community."
Shanna Woyak commented, "It is an honor to be a new board member of this incredible organization! The unique mission set of TBIRD2 in advancing the education and training of our young aviation students combined with their support of the DOGS4VETS program, assisting disabled veterans in living more productive lives, is beyond a privilege to be a part of. I am looking forward to working with this talented team!"
About Thunderbird Field II Veterans Memorial, Inc.
Thunderbird Field II Veterans Memorial, Inc. is a 501(c)(3) non-profit organization formed in 2014 and headquartered in Scottsdale, Arizona. During World War II, the airfield named Thunderbird Field II was built for the sole purpose of training U.S. Army Air Corps pilots in 1942. Thunderbird Field II graduated over 5,500 men and women pilots, many of whom saw military action in Europe and the Pacific. The field and school were deactivated on October 16, 1944, sold to Arizona State Teachers College (ASU), then to the Arizona Conference of Seventh-day Adventists, and finally to the City of Scottsdale in 1966 and is now known as the Scottsdale Airport (KSDL). Tbird2 has a permanent Veterans Memorial at the entrance to the Scottsdale Airport, located at 15000 N. Airport Drive, Scottsdale, AZ. The centerpiece of the memorial is a 1942 Stearman biplane, and inside the business center is a historical display honoring the service of men and women of the U.S. Armed Forces as well as POW-MIAs.
ABOUT DOGS4VETS
American Service Animal Society, dba Dogs4Vets, is a non-profit 501(c)(3) organization dedicated to enabling disabled veterans live a more productive life through the use of service animals. Dogs4Vets offers no-cost lifetime support and service dog training for over 100 Arizona veterans each year.