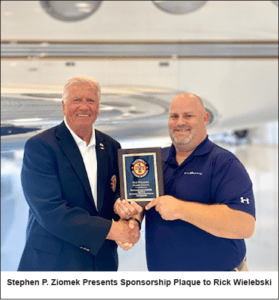 Scottsdale, AZ (May 4, 2023) – Atlantic Aviation is a proud supporter of the Thunderbird Field II Veterans Memorial (Tbird2) organization in Scottsdale, Arizona. Tbird2 is a non-profit 501(c)(3) organization whose mission is to preserve the rich history and culture of aviation in Scottsdale, provide a tribute to our veterans, promote aviation, create unique educational opportunities to the public, provide aviation scholarships for Arizona college students, and support Dogs4Vets and other specific veteran assistance programs.
Rick Wielebski, General Manager of Atlantic Aviation Scottsdale, stated, "I and the Atlantic Aviation company, with over one hundred locations, are uniquely involved in aviation daily. I am pleased that we can support Thunderbird Field II Veterans Memorial and its contributions to the public, our veteran community, aviation in general, and collegiate students interested in aviation careers."
Stephen P. Ziomek, President and Chairman of the Thunderbird Field II Veterans Memorial organization, remarked, "Rick and his companies have been instrumental in providing service and support to the Tbird2 organization. He has been and continues to be a strong supporter of Tbird2 and its mission since the organization's inception in 2014."
About Thunderbird Field II Veterans Memorial
During World War II, the Scottsdale airfield known as Thunderbird Field II was built to train U.S. Army Air Corps pilots. Thunderbird Field II graduated over 5,500 student pilots and was one of the largest training facilities in the world. It gained a widespread reputation for the thoroughness of instruction and high caliber men and women graduates. In fact, Thunderbird Field II pilots flew nearly 26,500,000 miles, more than 3,000 times around the globe at the equator.
The highlight of the Scottsdale Airport complex, the Thunderbird Field II Veterans Memorial includes a park-like plaza and monument to our nation's brave fighting men and women with information on Thunderbird Field II and its rich military history. The centerpiece of the memorial is a Boeing-Stearman PT-17, manufactured on 9/11/1941. It is the same type of aircraft used for training at the Scottsdale airfield during WWII.
Within the facility, visitors can learn more about the Stearman aircraft, Arizona's contribution to WWII, and Thunderbird Field II. To learn more about the Thunderbird Field II Veterans Memorial, Inc.
About Atlantic Aviation
With over 100 locations, Atlantic Aviation is one of the premier fixed-base operators (FBOs) in the country. Its goal is to go above and beyond to provide the amenities, service and attention needed: fuel, executive terminals for passengers and crew, hotel arrangements, gourmet catering, baggage service, lav service, quick turns, potable water, GPU, Air Start, and more.