Scottsdale, AZ (April 18, 2023) – Thunderbird Field II Veterans Memorial, Inc. ("Tbird2″) has added a new member, Thomas J. Salerno, to its advisory board. Tbird2 is a non-profit 501(c)(3) organization dedicated to preserving the history of aviation in Scottsdale, Arizona, honoring all military veterans, creating unique educational opportunities (scholarships) for Arizona students studying all aspects of aviation, and supporting Dogs4Vets.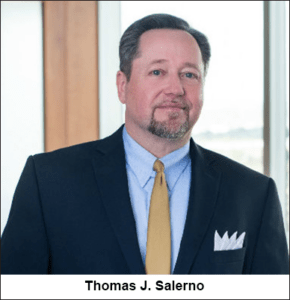 About Thomas J. Salerno
Thomas J. Salerno is a fixture in the Arizona legal community, having practiced in the Phoenix Valley for the last 40 years. Mr. Salerno is a partner in the firm of Stinson, LLP, practicing corporate and restructuring law having graduated from Rutgers University and Notre Dame Law School. Mr. Salerno has represented parties in insolvency proceedings in 30 states and five countries. He has been involved in restructurings in the United States, the United Kingdom, Germany, France, Switzerland, and the Czech and Slovak Republics.
Mr. Salerno's long-standing passion is the preservation of military history. He is currently the chairman of the Arizona Military Historical Society, an organization that is dedicated to preserving the memory of those who served, both home and abroad, in World War II. The Society marches every year in the Phoenix Veterans Day Parade in historically authentic uniforms and with Salerno's 1944 Jeep trailing the marchers. He also served for three years as a member of the advisory board of U.S. Vets, a national non-profit dedicated to assisting veterans in making the sometimes challenging transition from military and combat life to civilian life. Mr. Salerno was also the Legal Affairs Officer on the board of directors of the WWII Airborne Demonstration Team Foundation ("ADT") based at Frederick Army Air Field in Frederick, Oklahoma, a historic WWII bomber training base. He served on the ADT board for thirteen years, having earned his airborne wings after completing training and completing numerous military style static line parachute drops from Boogie Baby, the team's restored C-47 aircraft.
Tom and his son are curators of the Salerno Museum, which displays the artifacts, uniforms, and weaponry of the WWII era. He, his son, and his Jeep were all on display at the two prior Tbird2 Veterans Day "Swing Time" fundraising events.
Rudy R. Miller, Chairman of the Advisory Board & Scholarship Committee, Tbird2, remarked, "I am extremely pleased that Tom has accepted my invitation to become our third new 2023 advisory board member and he completes our new expanded seven-person board. We have assembled an exceptional committed group of board professionals with tremendous backgrounds and expertise. I am excited about our team coming together and supporting our Tbird2 objectives."
Thomas J. Salerno commented, "I am honored to join this advisory board! The mission of Tbird2 in preserving a critical piece of Arizona and U.S. history is essential, and this, combined with my longstanding relationship with Rudy, makes me very excited to work with the fine men and women associated with Tbird2!"
Stephen P. Ziomek, Chairman & President, Tbird2, stated, "It is truly a "find" to have such a high caliber and balanced individual join our advisory board. Thomas' experience in law and his passion for preserving and supporting the military and veteran community will certainly aid the Tbird2 organization in fulfilling its multi-faceted mission. We are pleased to have Tom on board."
The 2023 Advisory Board Members are Rudy R. Miller, Chairman of the Tbird2 Advisory Board & Scholarship Committee, and Chairman, President & CEO of The Miller Group; W.J. (Jim) Lane, Vice Chairman of the Tbird2 Advisory Board and Former Mayor of the City of Scottsdale; Rob Schwister, Executive Vice President of Equipment Leasing Services, LLC; Randall S. Prust, M.D., President and Founder of Prust Medical Consulting, LLC; Karen Longo, Founder & President of Management Affiliates International, Inc.; Gary Mascaro, Aviation Director at the Scottsdale Airport, City of Scottsdale; and Thomas J. Salerno, Partner, Stinson, LLP.
About Thunderbird Field II Veterans Memorial, Inc.
Thunderbird Field II Veterans Memorial, Inc. is a 501(c)(3) non-profit organization formed in 2014 and headquartered in Scottsdale, Arizona. During World War II, an airfield named Thunderbird Field II was built for the sole purpose of training U.S. Army Air Corps pilots in 1942. Thunderbird Field II graduated over 5,500 men and women pilots, many of whom saw military action in Europe and the Pacific. The field and school were deactivated on October 16, 1944, sold to Arizona State Teachers College (ASU), then to the Arizona Conference of Seventh-day Adventists, and finally to the City of Scottsdale in 1966 and is now known as the Scottsdale Airport (KSDL). Tbird2 has a permanent Veterans Memorial, the centerpiece of which is a 1942 Stearman biplane, at the entrance to the Scottsdale Airport, located at 15000 N. Airport Drive, Scottsdale, AZ, and a historical display inside the facilities honoring the service of men and women of the U.S. Armed Forces as well as POW-MIAs.
About Dogs4Vets
American Service Animal Society, dba Dogs4Vets, is a non-profit 501(c)(3) organization dedicated to enabling disabled veterans live a more productive life through the use of service animals. Dogs4Vets offers lifetime support and service dog training for over 100 Arizona veterans each year, at no cost to the veteran.