Scottsdale, AZ (January 18, 2023) – Thunderbird Field II Veterans Memorial, Inc. ("Tbird2″) announced a 2023 Aviation Scholarship has been awarded to Payson Duane ("Duane"), an Embry-Riddle Aeronautical University ("ERAU") junior earning a Bachelor of Science in Aviation with a minor in Spanish Communications. Tbird2 is a non-profit 501(c)(3) organization dedicated to preserving the history of aviation in Scottsdale, Arizona, honoring all military veterans, creating unique educational opportunities for Arizona students studying all aspects of aviation, and supporting Dogs4Vets.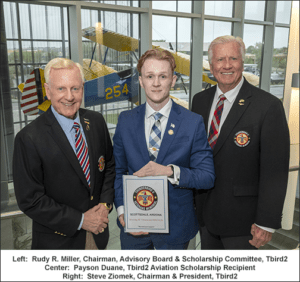 Duane joined the U.S. Marine Corps at age 17. He was deployed to the Middle East combat zone in support of Operation Iraqi Freedom and Operation Inherent Resolve. He served in several leadership roles and obtained the rank of Sergeant E-5. For his efforts, Duane was awarded the Navy and Marine Corps Commendation Medal. After serving 4+ years, Duane chose to transition into ERAU to earn a professional pilot license; he earned his private pilot license previously. He maintains a high GPA and anticipates graduating in 2024. His next objective is to become a flight instructor at ERAU and his final goal is to fly for a regional airline or become a corporate pilot.

Steve Ziomek, Chairman and President of Tbird2, stated, "Duane has been and is a quintessential student, leader, Marine, and is passionate about his career goals.  There is no doubt that he will continue to utilize his many skills to achieve those dreams.  We are proud to have awarded the Thunderbird Field II Veterans Memorial scholarship to such a deserving individual."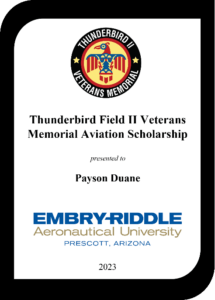 Rudy R. Miller, Chairman of the Tbird2 Advisory Board and Scholarship Committee, remarked, "As a former member of the U.S. Armed Forces, who also spent many years in the airline aviation industry, I respect Duane enormously for his service and sacrifice for our country. It is a privilege and HONOR to announce, in concert with Steve Ziomek ("Zio"), a decorated aviation Veteran, this coveted Tbird2 ERAU Aviation Student Scholarship."
Miller continued, "Duane made a strong impression on Zio and me in our interview with him. His focus and determination regarding his future in aviation, including his leadership skills he developed in the military were undeniable. Plus, he was independent since being a teenager. This young man is resolute in the pursuit of his objectives!"
"Embry-Riddle is extremely proud of Duane being recognized for this Tbird2 scholarship. He is a great example of our veteran community having transitioned from the Marine Corps to ERAU in pursuit of his professional pilot certifications." commented Parker Northrup, ERAU College of Aviation Flight Department Chair.
About Thunderbird Field II Veterans Memorial, Inc.
Thunderbird Field II Veterans Memorial, Inc. is a 501(c)(3) non-profit organization formed in 2014 and headquartered in Scottsdale, Arizona. During World War II, an airfield named Thunderbird Field II was built for the sole purpose of training U.S. Army Air Corps pilots in 1942. Thunderbird Field II graduated over 5,500 men and women pilots, many of whom saw military action in Europe and the Pacific. The field and school were deactivated on October 16, 1944, sold to Arizona State Teachers College (ASU), then to the Arizona Conference of Seventh-day Adventists, and finally to the City of Scottsdale in 1966 and is now known as Scottsdale Airport (KSDL). Tbird2 has a permanent memorial at the entrance of the Scottsdale Airport, located at 15000 N. Airport Drive, Scottsdale, AZ, and a historical display inside the facilities honoring the service of men and women of the U.S. Armed Forces as well as POW-MIAs.
The Aviation Scholarship Program provides scholarships to veteran and non-veteran Arizona resident students who meet specific criteria and are attending Arizona State University, Embry-Riddle Aeronautical University, Chandler-Gilbert Community College, Cochise College, Pima Community College, or Yavapai College. For more information, please visit www.tbird2.org.
About Dogs4Vets
American Service Animal Society, dba Dogs4Vets, is a non-profit 501(c)(3) organization dedicated to enabling disabled veterans live a more productive life through the use of service animals. Dogs4Vets offers lifetime support and service dog training for over 100 Arizona veterans each year, at no cost to the veteran.